The noise produced by a CD drive can be a significant annoyance at a computer workplace. The following is an example of how to configure a drive that is not frequently used, to reduce the level of disturbance.
| | |
| --- | --- |
| | Open the drive settings |
To open the drive settings, select "Computer" in the Start menu, right-click on the desired CD drive, and select Drive properties.
| | |
| --- | --- |
| | Configure the denoiser for a drive |
Open the Denoiser page. In our example, we leave the drive speed setting on "Maximum" and set the active period to 16 seconds.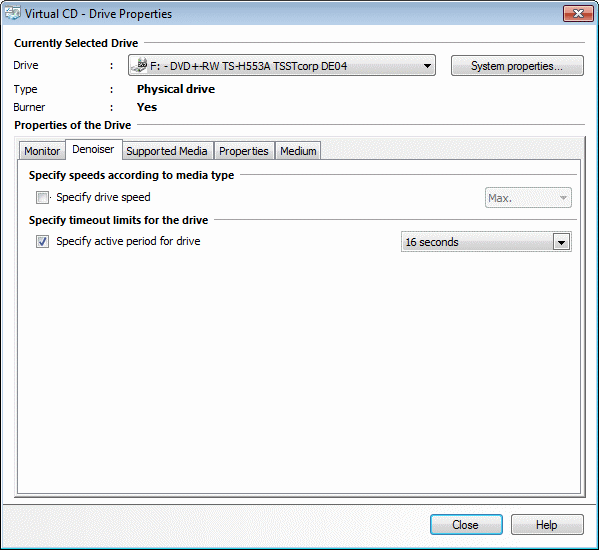 That's it! The settings are active immediately and the computer is quieter. Close the Drive Properties dialog, or select a different drive.
| | |
| --- | --- |
| | Use the new settings for a while to see whether they have the desired effect. |
| | |
| --- | --- |
| | If you have problems running an application on a CD, follow the instructions above to open the settings page and change or deactivate the settings as needed. When you deactivate these settings, the denoiser reactivates the default drive settings. |