Collections can contain a large number of files, which can make it difficult to keep track of all your data if you only use the Explorer view. That is why Virtual CD FS has a special Collection Viewer that gives users direct access to the CDs in a collection.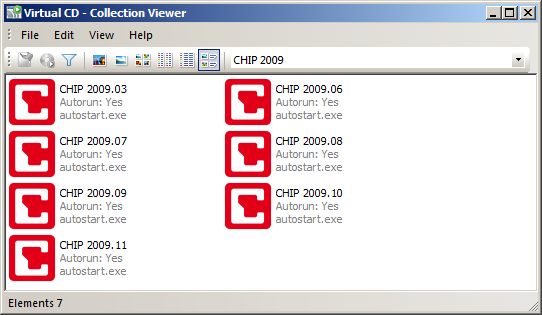 The Collection Viewer shows all CDs that currently belong to the collection and enables access to the data they contain. As far as possible, it presents a view of the CDs that permits access as if the CD itself were in a drive. Double-clicking on a CD in this viewer executes the CD's autorun program. If the CD does not have an autorun program, the Explorer is opened to allow access to the data.
The Collection Viewer is stored in the <VCDFS>\System\Viewer directory, and consists of the following files:
•

vc10collview.exe

- The Collection Viewer.
•

vc10collview.ger

- The language file.