In addition to the information contained in this documentation and that available from various online sources, Virtual CD also provides detailed information on its functions and processes while you use the program, in the form of detail dialogs and popup texts.
•

Detail dialogs

open at certain points when you enter data or use a control element, and provide detailed information on the particular operating step or program process. If you do not want a particular detail dialog to open again, select the

Do not show this information again

option. For example, if you open the Virtual CD Starter and select "Insert virtual blank," and then "Create a virtual safe," a detail dialog provides a definition and a link to more information.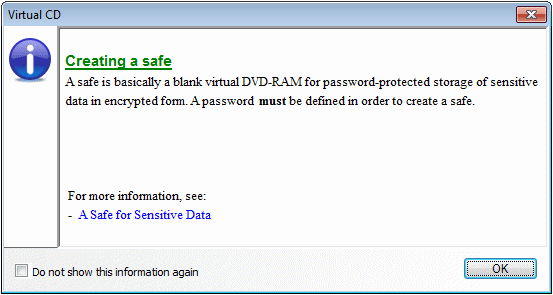 | | |
| --- | --- |
| | In the Virtual CD Settings program, on the System dialog page, you can activate or deactivate all Detail dialogs at once. Thus all detail dialogs that had been individually deactivated can be reactivated at any time. |
•

Popup texts

can be opened at any time by clicking on the

button in the program window for additional information about various controls and their features. The text remains displayed as long as the mouse cursor is on it. When you move the mouse away from the text, it disappears automatically after a brief interval. For example, in the Eraser Wizard program, a popup text provides details on the deletion methods you can choose from.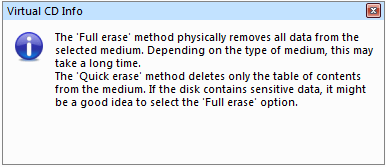 | | |
| --- | --- |
| | We recommend using all sources of information available to you. Both the detail dialogs and the popup texts provide important notes and can help preclude the need for troubleshooting. |