The Eraser Wizard lets you delete data from any recordable media (CD-RW, DVD-RW, DVD+RW, Blu-ray-RE and DVD-RAM). Simply select Delete data from RW medium on the Tasks and Tools tab in the CD Control Center or under Virtual CD Programs in the Quick Start utility.
| | |
| --- | --- |
| | When you run the Eraser Wizard, it checks for the presence of a CD burner. If no CD burner is found, the Easer Wizard shows an error message and shuts down. |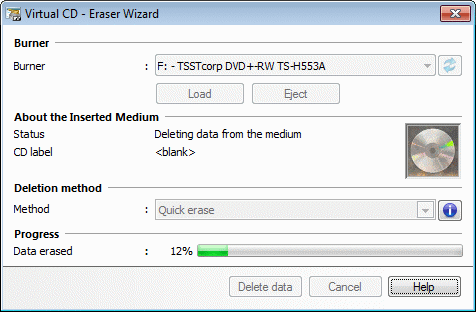 The Burner section lets you select the burner containing the disk to be erased. Use the Load and Eject buttons to open and close the CD drawer.
The next section shows information about the inserted medium. The Status field shows whether data can be deleted from the medium in the recorder. If there is data on the medium, the CD label is shown here; in some cases additional information is shown (e.g., that an RW medium is already blank).
In the "Deletion method" section, you can choose from the following options:
Click on Delete data to begin deleting. The progress bar indicates the status of the operation.
| | |
| --- | --- |
| | If you select the "Full erase" option, the process might take a long time. |