With the default settings, Virtual CD's Quick Start utility runs automatically on program startup. It places a Virtual CD icon in the notification area (on the right-hand side of the Windows taskbar) which gives you direct access to the main Virtual CD functions.

- Quick Start utility icon
When Virtual CD is busy creating a virtual CD using the Image Wizard, this is indicated by an icon overlay:

- Icon during creation of a virtual CD
| | |
| --- | --- |
| | In Windows 7, the icon is hidden by default. To have it shown rather than hidden, you need to change the Windows settings for notification area icons. To do this, change the setting for Virtual CD - Quick Start Utility from Notifications only to Show icon and notifications. |
What the icon does depends on whether you click on it once or twice:
•

Single click:

Opens a menu listing all programs and all CD drives.
•

Double-click:

Opens the CD Control Center for immediate access to all images and all Virtual CD functions.
| | |
| --- | --- |
| | With the default settings, the CD Control Center opens when you double-click on the Quick Start icon. On the System page of the Settings, you can specify a different program, if desired. |
| | |
| --- | --- |
| | If you have a relatively small number of virtual CDs, you might find that the Quick Start utility is all you need – a sort of "mini-administration tool" for easy CD management and quick access to most of the program functions. |
| | |
| --- | --- |
| | In the Virtual CD Settings program, you can define a keyboard shortcut that opens the Quick Start menu. This gives you even quicker access to the main Virtual CD functions. |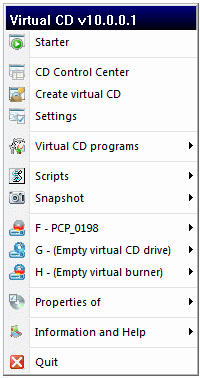 The following functions are available in the Quick Start menu:
•

Starter

– Opens the Virtual CD Starter.
•

Virtual CD programs

– Opens a menu of Virtual CD programs to choose from.
•

Scripts

– Opens a menu that lets you launch the Script Generator and lists all of the scripts in your Virtual CD system.
•

Display of drives

– Drives are displayed with indications of drive type, status and name of medium, if any, inserted. Hover the mouse over a drive in this list to open a menu of commands (Insert, Eject, Show properties, etc.) for the drive.
•

Properties of

– Opens a menu of all images registered in the system and shows the properties of a selected image.
•

Information and Help

– Opens a menu for accessing the documentation and a variety of on-line content.
•

Quit

– Shuts down the Quick Start utility.
| | |
| --- | --- |
| | To remove the Quick Start icon from your taskbar—for example, if you have a large number of icons there already and do not wish to use the Quick Start utility—open the System page of the Virtual CD Settings and deactivate this utility. |