The License Monitor gives you an overview of all Virtual CD installations (including demo versions) and all license code numbers found in the system. You can open it from the main menu in the CD Control Center or under Virtual CD Programs in the Quick Start utility.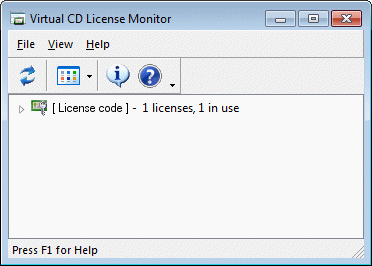 The main window lists all license codes in a tree structure. When you expand a node to view the next lower tree level, you can see all the computers that are licensed by the particular license code.
| | |
| --- | --- |
| | When you open the License Monitor, it begins by searching for all Virtual CD license codes. Depending on your network, this may take up to several minutes. |
Select Properties from the View menu for an overview of additional information on the selected element. Which information is shown depends on whether you activate the "Properties" command for a license (license information) or a computer (user information).
You can activate commands through the toolbar or through the menus; some commands can also be activated using keyboard shortcuts (hotkeys).