CD-Text is a form of additional data stored on many audio CDs to provide information such as artist name, track titles, and more, pertaining to the audio tracks. Some devices can display this information directly, as an alternative to retrieving it from the Internet. The sound file mode makes use of this information to automatically name sound files.
| | |
| --- | --- |
| | Not all programs that can burn audio data can also access CD-Text. Even programs that can, usually require user input to activate this capability. |
The following example, Burning with iTunes, shows how to use this program to create music files and use CD-Text to name them automatically.
| | |
| --- | --- |
| | Assemble the desired sound files |
When you activate the sound file mode, the special blank is automatically inserted in a virtual burner. Now you can run the program for burning audio files—in this example, iTunes—and collect the desired files.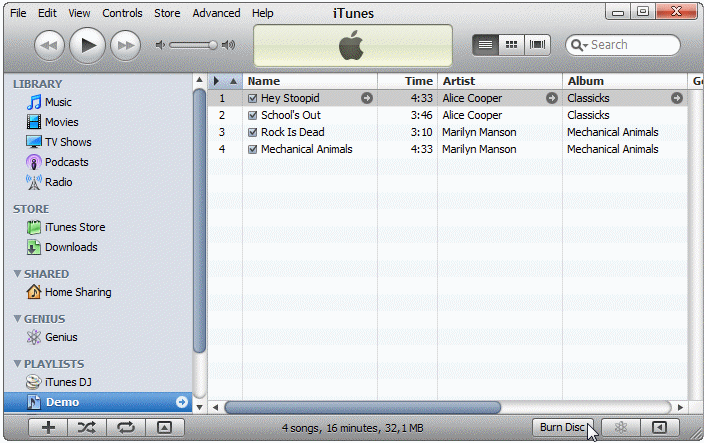 Once you have assembled the desired data, click on Burn Disc to start the burning process.
| | |
| --- | --- |
| | Burn the sound files |
In the Burn Settings, specify "Audio CD" under Disc Format. To use the CD-Text data for naming the tracks, activate the Include CD Text option. Make sure the virtual burner that is in sound file mode is specified under CD Burner.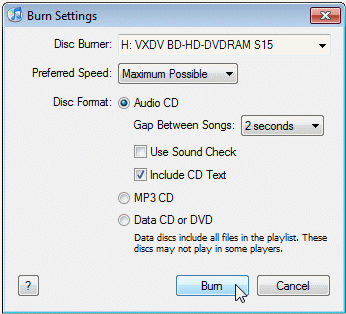 Click on Burn to begin creating the sound files.
| | |
| --- | --- |
| | Convert audio data |
The actual burn process does not take much time. Virtual CD collects the sound files and begins converting them to the specified format parallel to the burn process.
| | |
| --- | --- |
| | The format in which the sound files are created is configured on the Burn page of the Virtual CD Settings program. This has to be configured before you begin the burn process. For this example, we have chosen OGG Vorbis with 128 kbit/s. |
A window opens in the lower right corner with a progress bar indicating the status of the burn process. Closing this window stops the burn process.

| | |
| --- | --- |
| | View the results |
When the conversion has been completed, an action prompt with several options is shown. To view the results of the process, select Open the sound file folder.

You can now see the converted sound files in the Explorer window. Thanks to the CD-Text data, the audio tracks have retained their original names. A track list, VCDPlayList in M3U format, has also been created, which enables the tracks to be played in their original order.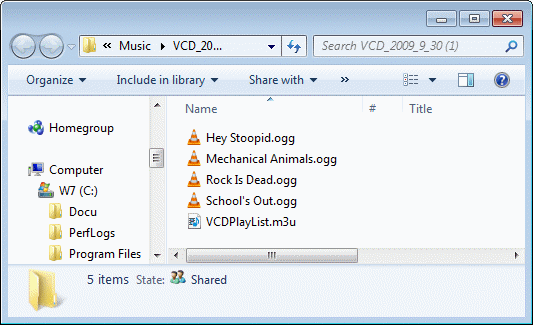 That's it! The new sound files are now ready for use.