Activating the sound file mode is extremely simple.
| | |
| --- | --- |
| | Create a new blank virtual medium |
The special blank for the sound file mode can be created using the Virtual CD Starter. Begin by selecting the Insert virtual blank option.

| | |
| --- | --- |
| | Select type of blank |
Since we will be creating sound files, we select the Activate sound file mode option.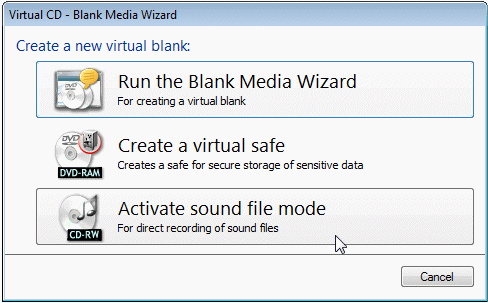 After a moment, the sound file mode is active. This is indicated by the label on the icon, visible for example when you are using dynamic desktop icons.
You can now begin burning audio data. It is important to understand how Virtual CD will name these files. Track titles can be taken from CD-Text or from an M3U playlist.
You can now create sound files using any program that can burn audio data. The following two examples provide detailed demonstrations:
| | |
| --- | --- |
| | You can also use the sound file mode without CD-Text or an M3U playlist. The main problem with this would be that the sound files are not given meaningful names. |
| | |
| --- | --- |
| | If you use a program that enables the addition of CD-Text information when burning a CD, we recommend using that function. It names the files automatically, which is far easier that having to enter all the titles yourself. |