Since virtual blank media support encryption, they are well suited for use in secure storage of sensitive data. You could create a blank medium and use it as a hard disk, with encryption if desired, using the Blank Media Wizard. But Virtual CD has an easier solution: when you create a data safe, only the configuration settings needed for that specific purpose are prompted. This process creates a DVD-RAM, since this media type has the best properties for secure data storage.
| | |
| --- | --- |
| | Create a new blank virtual medium |
In the Virtual CD Starter, select the Insert virtual blank option.

| | |
| --- | --- |
| | Select type of blank |
To create an encrypted hard disk for secure storage of your sensitive data, select Create a virtual safe.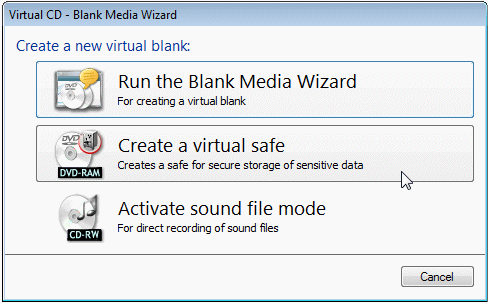 | | |
| --- | --- |
| | Create a safe |
This opens a dialog for entering the description, the desired size and a password.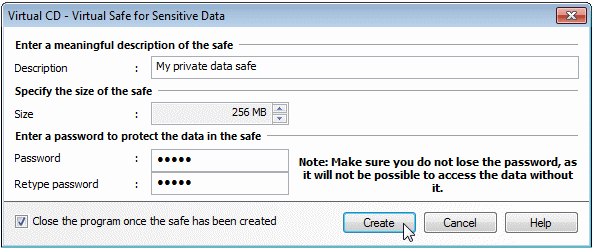 In this example, we enter My private data safe as the description. Defining a password is essential when creating an encrypted hard disk for use as a data safe.
| | |
| --- | --- |
| | We recommend keeping a record of your password in a safe place. Without the password, there is no way to access the data in the safe. |
| | |
| --- | --- |
| | Please note that on Windows XP, the data safe has to be 256 MB or larger; otherwise the formatting cannot be completed successfully. |
Click on Create to generate the data safe.
| | |
| --- | --- |
| | Using the data safe |
Once the safe has been created, it is automatically inserted in the first available virtual burner. Because this is an encrypted medium, a password prompt opens automatically.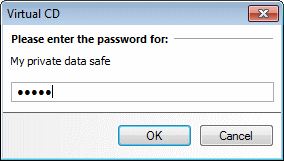 The last step is to format the data safe for use as an encrypted hard disk. You can do this using the live file system or with the direct formatting option.
| | |
| --- | --- |
| | Windows XP automatically opens the dialog for direct formatting, since it does not have a live file system to offer. |
That's it! You can now copy your sensitive data to the new data safe for secure storage.