Re-writable media can be used as virtual hard drives. They can also be encrypted, for example, to use them as data safes for storing sensitive data. To use a virtual blank as a hard disk, it must be set up so that data can be written and read at any time. There are two ways to do this:
| | |
| --- | --- |
| • | Formatting with the live file system. |
| | |
| --- | --- |
| • | Direct formatting in the Windows Explorer. |
The basic difference between the two methods is that the live file system automatically uses UDF, while the Windows Explorer lets you choose the format.
| | |
| --- | --- |
| | The live file system is not available on Windows XP; the only method is direct formatting with the Explorer. Furthermore, the Windows burning function can use only the DVD-RAM as a re-writable medium. |
To format the re-writable blank, begin by inserting it in a virtual burner. Then select it in the Explorer, right-click on it and select Format from the popup menu.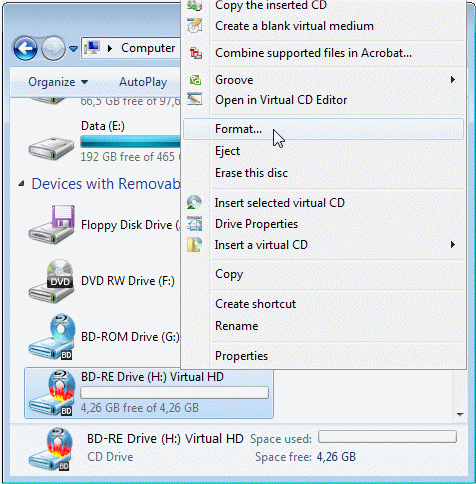 A system dialog opens for configuring the desired settings. Generally, no changes are required.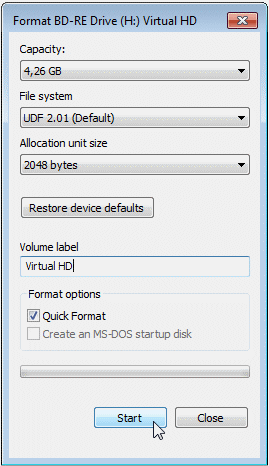 | | |
| --- | --- |
| | You can select the file system to be set up during formatting. The choices offered depend on the operating system you are using. |
At the end of this process, the re-writable media is available for use as a hard drive. For secure data storage on a virtual CD, you can create an encrypted blank. The encryption option can be activated during the creation process when making a virtual CD, or when you create a safe for sensitive data.
Virtual CD provides a special icon for encrypted hard drives so that they can be recognized at a glance. This icon is used only for re-writable blanks that are encrypted.
| | |
| --- | --- |
| | - Encrypted DVD-RAM |
| | |
| --- | --- |
| | - Unencrypted DVD-RAM |