Once the file conversion has been completed, the sound file mode automatically inserts a new empty special blank so the next burn process for creating sound files can begin right away. This happens regardless of whether the software used to burn the sound files ejects the CD once it has been burned. Furthermore Virtual CD detects the end of the conversion of sound files and opens an action prompt offering a number of options.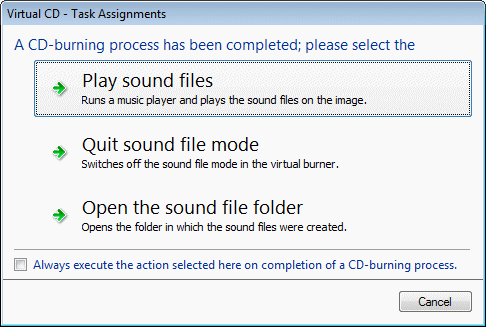 You can choose from the following:
•

Play sound files:

Opens the player linked to the

M3U playlist

to play the sound files just created.
•

Quit sound file mode

Ejects the special blank for the sound file mode.
•

Open sound file folder:

Opens the folder on the hard disk in which the newly created sound files are stored.
If you want to have the selected action carried out every time an image is burned, activate the Always execute the action selected here on completion of a CD-burning process option before you select the action. The next time an image is burned, the action prompt dialog is skipped and the previously selected action is carried out automatically. On the Burn page of the Virtual CD Settings, you can change the task executed after sound files are created at any time.