Reading out the data from a source CD can be a time-consuming operation. You may at times have wished you could interrupt the process to do something else, but did not want to lose the progress already made. That is why the Image Writer now offers the option of interrupting the virtual CD creation process and then resuming at a later point.
| | |
| --- | --- |
| | Interruption of the creation process is possible only when creating data CDs, NOT when creating ISO images or other CD types (such as audio CDs). |
To interrupt a CD creation process, simply click on the Stop button in the Image Writer. This opens a selection dialog offering you a number of choices.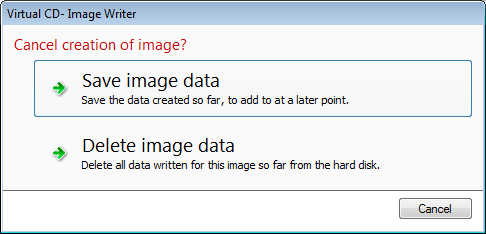 You can choose from the following:
►

Save image data:

The progress made up to that point is saved and you can resume the creation process later; the Image Writer picks up where it had left off.
►

Delete image data:

The creation process is stopped and all data read up to that point discarded.
Select Cancel to continue the creation process at this point, rather than interrupting it.
| | |
| --- | --- |
| | If it will not be possible to resume the process where it left off, a dialog opens prompting you to confirm whether the process should be stopped and all the data created up to that point deleted. |
When the process of reading out data is interrupted, an incomplete image is created. Like any completed image, this image is registered in the CD Control Center. This enables later completion of the image.
Because incomplete images cannot be used, it is not possible to select any actions for them. Nor are they included in the lists of CDs shown by the Explorer extension and Quick Start utility, to choose from for insertion.
To resume the image creation process, double-click on the image in the CD Control Center or use the Add data to a virtual CD mechanism.
| | |
| --- | --- |
| | This operation can only be carried out using the CD from which the incomplete virtual CD was made. If a different CD is in the specified drive, the process cannot be started. |
If you decide not to complete the image, you can select it in the CD Control Center and delete it, like any other image.