While Virtual CD is now easier than ever to use, it does have quite a few functions that go far beyond its use as a simple CD emulator. You might easily forget the functions that you use less frequently. For a better overview and more thorough introduction to the individual features, we have put together a number of videos that demonstrate the use of various Virtual CD functions. You can access these videos off line, through the Virtual CD Help program, or on line, in the new Virtual CD Video Library.
| | |
| --- | --- |
| | Note: The Adobe Flash player is required for playing the videos. |
When you open the Virtual CD help program, you will see that certain items in the documentation tree structure are marked with a camera icon.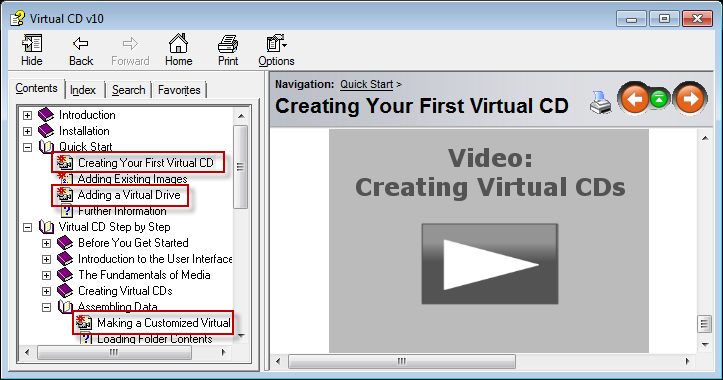 Help texts that are marked with this icon include a Video button at the end of the text. Clicking on this button opens and executes the video in a new window.
| | |
| --- | --- |
| | Some sections of the Help program contain videos, but are not marked with a camera icon. |
In addition to these brief videos, we have made a number of more extensive 'workshop videos.' These can be found on line, in the Virtual CD Video Library. To view workshop videos, open the Information tab in the Ribbon of the CD Control Center. When you select Video library, the browser opens and navigates to 'Virtual CD Online Workshops.'

Alternatively, you can open the video library by selecting the Information and Help menu in the Quick Start utility.