Several additions have been made in the CD Control Center to make certain features even easier to use:
•

Switch off CD Search:

In the Image Search feature, the

Search for virtual CDs

tab now contains a new

Switch off CD Search

button. When you click on this button, the search function is ended and the display returns to the Image View that had been active when the search was started.

•

Tooltips with detail dialogs:

The tooltip displayed for an image now shows more information (e.g., default drive, write-protection).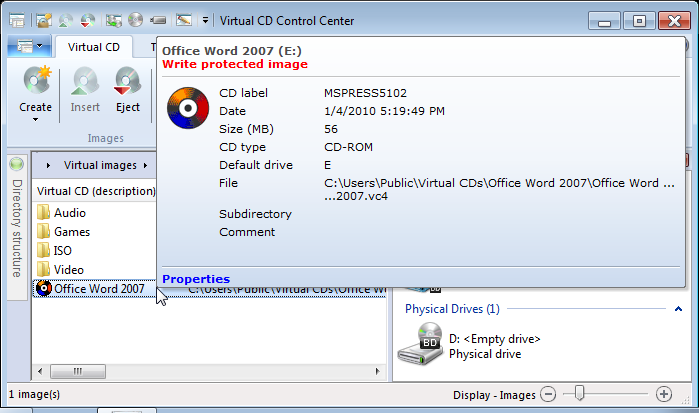 •

Write-protection information in 'Details:'

If it is not possible to write to an image, there are certain functions that are not available. That is why we have added the

Write-protected image

column. Now you can see at a glance whether an image is write-protected or not.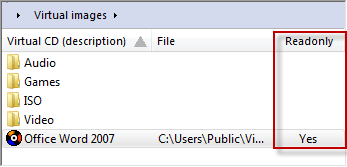 •

Filter by CD type:

The Image Filter has been expanded: now, images can be filtered not only by ISO type but also by type of virtual CD (Audio CD, Blu-ray, etc.). The list in the selection dialog includes all of the types you can choose from.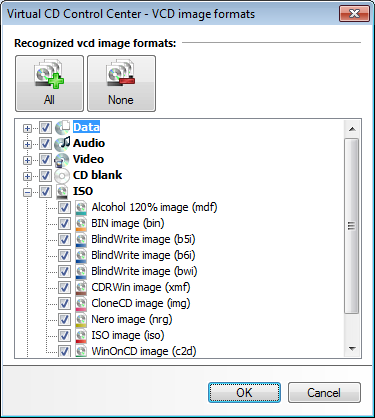 •

Load images in other programs more quickly and easily:

In the Copy Wizard, for example, to copy several images at once to another folder, you select the desired images and click on

Copy

in the

Tasks and Tools

tab. Before the update to VCD 10.1, if you found you had forgotten an image you had to either start over again and make sure to select all desired images, or run the entire copy process again separately for the image that had been left out. Now, you can simply select the image and click on

Copy

again. The image is automatically added to the selection in the Copy Wizard. The same applies analogously for all VCD programs that can process multiple images at once (Copy Wizard, Script Generator and Smart Virtual CD Burner).