The following describes how to burn a data CD in just a few easy steps, using the CD-burning function integrated in the Windows XP Explorer.
| | |
| --- | --- |
| | Create new blank |
Open the menu of the Quick Start utility and use the mechanism for direct creation of a virtual blank to create a blank CD-R. (Select <Virtual burner> -> Insert virtual blank -> CD-R(W) -> CD-R (700 MB).)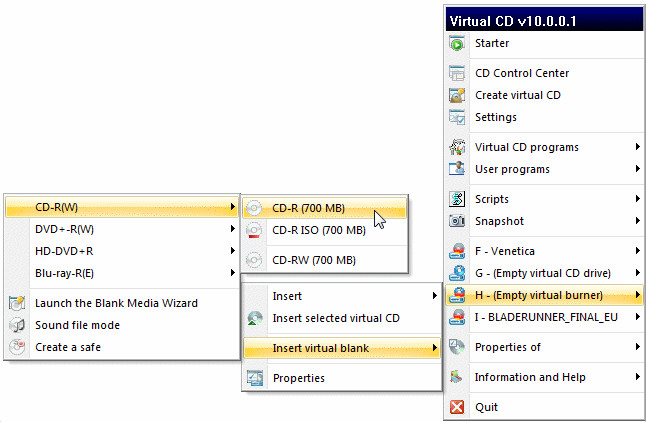 Once the virtual blank has been created, it is automatically inserted in the selected virtual burner.
| | |
| --- | --- |
| | Assemble data |
After the blank is inserted in the virtual CD burner, the Windows AutoPlay function opens the dialog for a blank CD. Select Open writable CD folder using Windows Explorer.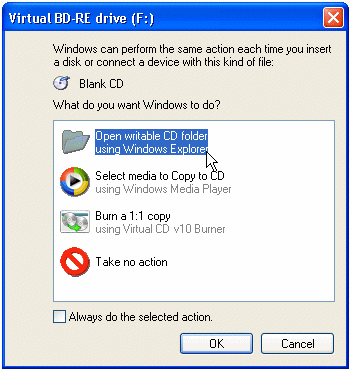 Now another Explorer window opens, with the virtual CD burner as address. You can use drag and drop to add your choice of files here.
| | |
| --- | --- |
| | Start the burning process |
Once you have added the data you wish to burn, select Write these files to CD to open the CD Writing Wizard.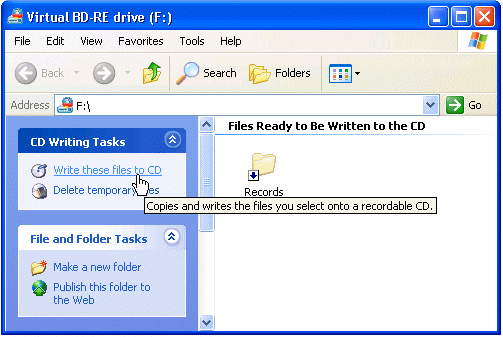 Follow the instructions given in the Wizard and click on Finish to complete the process.
That's it! Now you can insert the virtual CD and check whether the results meet your expectations.