It can be handy to prevent the use of physical CDs. There are limits to the usefulness of this function, however; for example, if you want to use a particular CD but don't want to deactivate the overall control of physical CDs. This situation can occur both at home and at the office.
Here is an example: You want to let your daughter use the "Microsoft Encarta" CD for school work, but you don't want her playing the computer games she has on CD. One solution would be to make a virtual CD from the Encarta CD. However, if this is not an option (e.g., due to disk space limitations), you can disable the use of physical CDs and then configure Virtual CD to permit use of the Encarta CD.
| | |
| --- | --- |
| | Run the CD Security Editor |
Place the CD you wish to allow in your physical CD-ROM drive. Run the Settings and open the Virtual CDs page. To open the CD Security Editor, click on the button to the far right of the CD security file input field.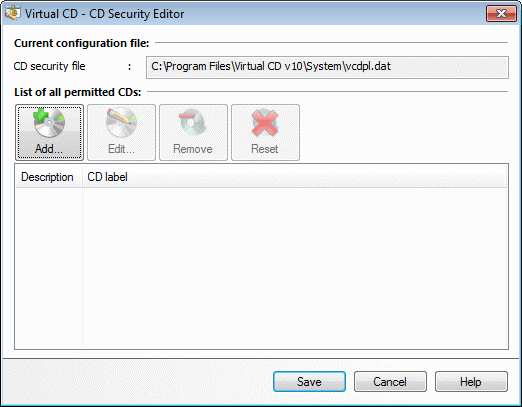 | | |
| --- | --- |
| | Add a CD |
To add a CD to the list of permitted CDs, click on Add.

In the next dialog, select the CD drive containing the CD. Enter a meaningful description and click on OK to exit. The CD is now in the list of permitted CDs defined by the CD Security Editor. Once you click on Save, the CD can be used on this computer.
| | |
| --- | --- |
| | The CD security file (vcdpl.dat) is stored in the Virtual CD system folder. If this file is deleted, all physical CDs are blocked from use when the use of physical CDs is disabled. |
When you run the CD Security Editor, the current CD Security file is opened automatically.