Preventing the use of physical CD-ROMs is very easy with the Virtual CD program.
| | |
| --- | --- |
| | Disable use of physical CDs |
Open the Virtual CD Settings from the Starter, select the Virtual CDs and activate the Automatically eject physical CDs (if not named in security file) option.
On its own, this setting prevents the use of physical CDs. As soon as you click on OK, or Apply, any CD in a physical CD drive is ejected. The only way to permit a physical CD to remain in a drive is to deactivate this option.
| | |
| --- | --- |
| | Define a password |
For optimum security, we recommend defining a password for this mechanism. To do this, open the Virtual CDs page and select Define a password to permit authorized use of blocked CDs. This opens a dialog in which you can define a password to override the setting that blocks the use of physical CDs.

| | |
| --- | --- |
| | Test the security override function |
This mechanism adds a new control to the Virtual CD tab of the Ribbon in the CD Control Center: the Permit phys. CDs button.

Click here to permit the use of physical CDs. If a password has been defined, a password prompt is opened now.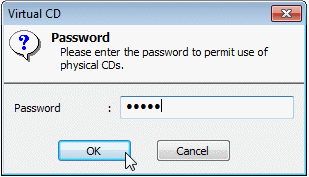 | | |
| --- | --- |
| | If not, anyone who can access the CD Control Center can control whether physical CDs are permitted for use or not. |
The function of the new button on the Virtual CD tab switches, and the text now shows Block phys. CDs. When you click here again, the use of physical CDs is blocked.