You may at some point have one virtual CD that you want to make available to all users who log on. This is easy to implement with a user profile.
In the following example, we will use the Z: drive to provide a virtual CD that cannot be ejected.
| | |
| --- | --- |
| | Creating a New Profile |
Run the Profile Editor and select New in the Ribbon to create a new profile. In this example, we will create a profile that permits all users to access the virtual CD(s) affected.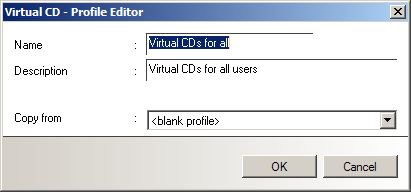 We give it the name "Virtual CDs for all" and enter "Virtual CDs for all users" as the description. Select <blank profile> in the Copy from field; afterwards, we will change some of the settings. Click on OK to write the profile.
| | |
| --- | --- |
| | Deactivate programs |
Double-click on the new profile to edit its settings, and deactivate all of the options on the Programs page. Since the sole purpose of this profile is to make certain CDs available to all users, you can deactivate the programs in this profile and use other profiles to activate individual programs as desired for particular users or user groups.
| | |
| --- | --- |
| | If you do not deactivate all the programs in this profile, all users will be able to use all Virtual CD TS features. |
| | |
| --- | --- |
| | Allocate virtual CDs |
Open the CD Drives page and activate Z: as a virtual CD drive by putting a checkmark (i.e., by clicking) in the box next to this drive letter. Click on Action and select Insert a virtual CD. A dialog opens showing all of the available virtual CDs. Select the virtual CD to be inserted in the CD drive and click on OK. Click on Action again, and select Lock to lock the virtual CD drive.
| | |
| --- | --- |
| | Configure permissions |
On the Permissions page, specify the users for whom you wish to allow access to this CD. In our example, we select the predefined Everyone group.
| | |
| --- | --- |
| | When you select the Everyone group, this profile is applied to every user who logs on for a session. In this case, the Virtual CD TS basic profile is not used. That is why we deactivated all functions in this profile. Keep in mind that "Everyone" is a domain user account. If your terminal server is not a member of a domain, you need to use a different account, such as "Users." |
| | |
| --- | --- |
| | Test your settings |
When you have finished, click on OK to close the dialog. This completes the configuration.
That's it! - Test your configuration by logging on under various user accounts to activate the different profiles