The Quick Copy editor lets you view and edit existing Quick Copy files. Quick Copy files are written by the Image Writer while creating a virtual CD, if this function is activated beforehand in the Image Wizard settings.
| | |
| --- | --- |
| | Quick Copy files that were not made with Virtual CD v7 or later can be viewed in the Quick Copy Editor, but not edited. |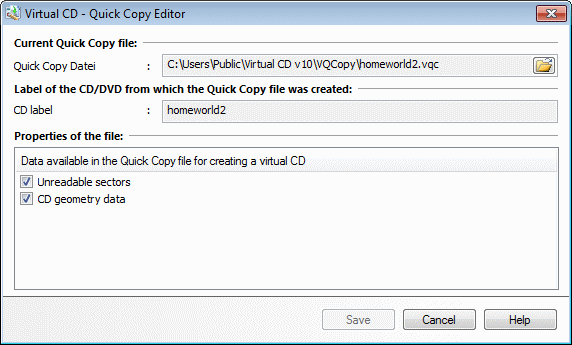 The Quick Copy Editor lists the contents of a Quick Copy file (such as unreadable sectors). Which data is contained in a Quick Copy file depends on which settings were configured for creating the virtual CD when the file was written.
All of the data marked with a checkmark in this list will be loaded from the Quick Copy file, rather than read from the source CD, the next time a virtual CD is created using this file. If the Quick Copy file contains data that you do not wish to include automatically on the virtual CD, remove the checkmark from that data.
| | |
| --- | --- |
| | If the list is shown in gray, the Quick Copy file contents can be viewed but not edited. |
The CD label indicates the medium for which the Quick Copy file was created.
Click on Save at the bottom of this window to save your changes. To browse for a different Quick Copy file, click on the button to the right of the file name.