Virtual CD can make exact, 1-to-1 copies from any of a number of sources. The Virtual CD Burner can make 1-to-1 copies of the following:
| | |
| --- | --- |
| ► | images (virtual CDs or ISO-compatible images) |
To make an exact copy, proceed as follows:
| | |
| --- | --- |
| | Run the Virtual CD Burner program |
Open the Virtual CD Burner from the Virtual CD Starter by selecting the Burn a disk option.

In the Virtual CD Burner, select the data source you wish to copy. To do this, select the CD drive that contains the desired virtual or physical CD, or select an image file.
In our example, we select an ISO image that we want to burn onto a CD. You can choose a different type of source if desired.
| | |
| --- | --- |
| | The Virtual CD Burner also supports burning cuesheets created when images are made with other programs. You can specify a cue file as a source just like any other file. |
| | |
| --- | --- |
| | Create a copy |
Once you have inserted a target medium with sufficient available space and specified the CD burner, you can define a number of parameters relevant to the writing process. When you are ready, click on Burn to start burning the CD.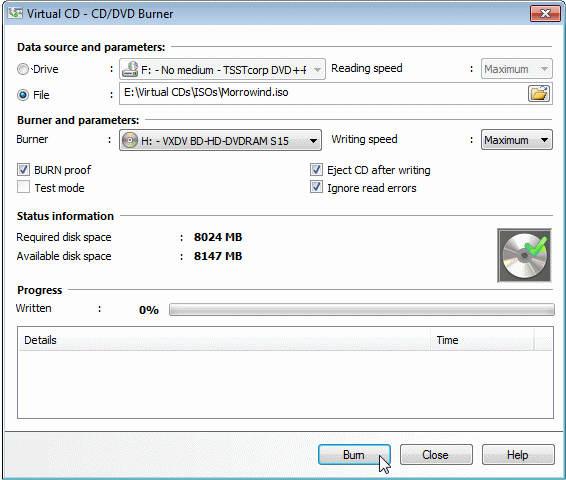 | | |
| --- | --- |
| | If the CD recorder is the only physical CD drive on your computer, you can choose whether Virtual CD creates a virtual copy first. Once the virtual CD is completed, it is automatically defined as the source and the burning process can be started as soon as you insert a blank disk. If you wish, you can have the virtual CD deleted automatically once the burning process has been completed. |
| | |
| --- | --- |
| | The burning process usually cannot start if the blank CD in the target CD recorder does not have enough space available. If the target medium is a re-writable CD, however, you are offered the option of running the Eraser Wizard to delete data from the medium. |