A Virtual CD copy template stores all of the settings configured to create a virtual CD from a particular source CD, so the same settings can be configured in the Image Wizard in a single step. This means you can save the settings you need for certain CDs, or types of CDs, for future use. There are two types of template:
•

System copy templates:

These are copy templates that come with your Virtual CD program.
•

User copy templates:

These are used-defined copy templates.
Virtual CD adds the following system copy templates during installation:
•

v10 - Automatic copy:

Virtual CD attempts to set the required options automatically.
•

v10 - CD geometry copy:

For an even more precise emulation of the physical CD; records a measurement series that detects detailed information relating to the physical structure of the CD.
•

v10 - Exact copy:

For some CDs, it is essential to read all information contained on the CD as precisely as possible. With this template, all settings that speed up the reading process are switched off, and the data is read one sector at a time.
•

v10 - Full copy (RAW, Sub-Channel):

Use this template when you want to include all of the data that is on the CD.
•

v10 - ISO copy:

Creates an ISO image, rather than a virtual CD.
•

v10 - Normal copy:

This template can be used with any CD that does not require special settings.
•

v10 - Unreadable block copy:

Some CDs have blank areas that can be clearly distinguished from areas on which data is written just by looking at the CD. With the normal settings, Virtual CD might spend several days trying to read these blank areas. If you see blank areas on your source CD, be sure to select this setting to minimize the time it takes to make the virtual CD.
| | |
| --- | --- |
| | The default setting is v10 – Automatic copy. This template generally configures all of the settings necessary to make a virtual CD. In some cases, however, non-standard formats of certain CDs might not be detected. When this is the case, select a different copy template or configure the relevant settings in the Image Wizard manually. |
To view a list of the available copy templates, click on the Create button on the Virtual CD tab in the Ribbon of the CD Control Center. When you choose a copy template from the menu, the Image Wizard is opened and loads the selected copy template. The last item in the menu is Open folder. Select this option to open an Explorer window in which you can delete and otherwise process existing copy templates.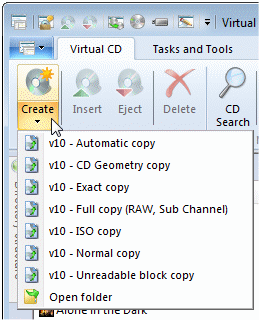 | | |
| --- | --- |
| | If you delete a system copy template, it is created again the next time you make a virtual CD. |
To edit copy templates, open the Copy Template editor. You can open this editor from the Analysis page of the Image Wizard, or by double-clicking on the desired copy template in the Explorer.
| | |
| --- | --- |
| | The use of copy templates is optional. Settings that would result in a defective virtual CD are corrected automatically by Virtual CD during the writing process. The results of analysis, too, might change some of the settings, if this function has not been blocked. |