On the Display of Drives page you can define which drives are displayed and supported by Virtual CD, as well as which have dynamic desktop icons.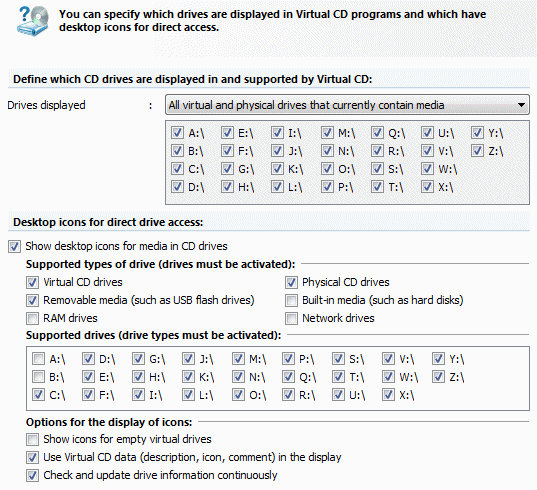 In the first section, define which drives are displayed and supported by Virtual CD. Under Drives displayed, define which drives are available directly in Virtual CD programs (such as CD Control Center, Quick Start utility, etc.) You can choose from the following options:
•

Show all drives:

The programs show all CD drives.
•

Only virtual drives:

The programs show only virtual CD drives.
•

All virtual and physical drives that currently contain media:

Physical and virtual drives that contain media are shown in the Virtual CD programs.
•

Only selected drives:

Only the drives explicitly selected here are shown.
| | |
| --- | --- |
| | If a default physical drive for inserting virtual CDs has been specified on the Virtual Drives page, that drive is displayed as well when Only virtual drives is selected, even though it is a physical drive. |
Desktop icons for direct drive access: Defines which drives use Virtual CD's dynamic desktop icons. The use of dynamic desktop icons is controlled by the Show desktop icons for media in CD drives setting.
Supported types of drive: Defines the types of drive for which desktop icons are shown. Virtual CD normally shows virtual and physical drives, as well as removable media. You can also have hard drives, RAM drives and network drives shown. You also have the option of excluding specific drives explicitly by deselecting the corresponding drive letter under Supported drives.
In addition to specifying the drives for which desktop icons are shown, you can also configure certain options forthe display of icons. These settings have a significant effect on the dynamic desktop icons:
•

Show icons for empty virtual drives:

This setting determines whether empty virtual CD drives are shown as desktop icons. Thanks to the Explorer extension, you can insert images by right-clicking on a desktop icon and selecting the "Insert" command from the popup menu.
•

Use Virtual CD data in the display:

A CD in a drive does not usually provide much information about itself. If desired, Virtual CD can generate a more informative display. This setting provides data from the autorun.inf file as well as the data Virtual CD stores (description, icon, etc,) for display with the desktop icon.
•

Check and update drive information continuously:

With this setting, Virtual CD checks the drive in the background even if no change is shown in the Explorer. This setting must be active if you want to view the space available on a drive.