You can use the Virtual CD Editor to assemble data and edit virtual CDs. The resulting data can be written to the target medium as a virtual CD or an ISO image, or burned onto a CD. To open the Editor, select Editor on the Tasks and Tools tab in the CD Control Center, Assemble data in the Virtual CD Starter, or under Virtual CD Programs in the Quick Start utility.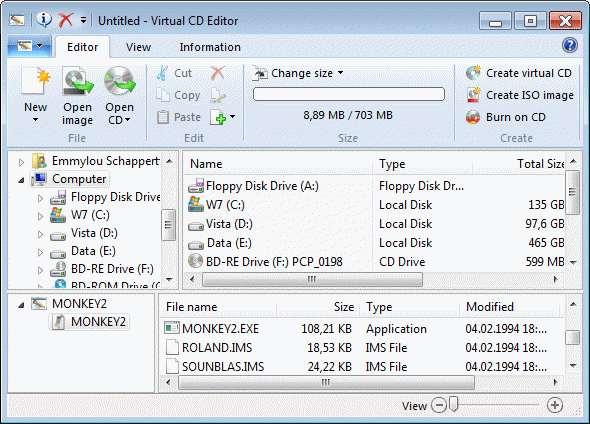 The Editor window is divided into two panes:
| | |
| --- | --- |
| ► | Explorer View: Shows folders and their contents, similar to the Windows Explorer. |
| | |
| --- | --- |
| ► | Contents View: Shows the folders and files selected for inclusion in the assembled data. |
Like the status bar in the CD Control Center, the status bar here has a slider for adjusting the display.
The Editor functions can be accessed in the Ribbon and the main menu.